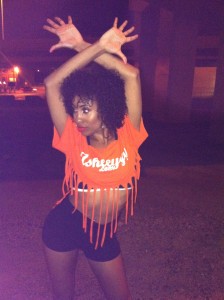 Freestyle Friday – Drake "Brand New" [VIDEO]
Hey World! You know what day it is? … That's right – -> FREESTYLE FRIDAY!!!
It's actually somewhat of a throwback too – I recorded this video back home in Milwaukee last year – at my dance home, Freestyle Dance Studio (which is now Euphoria Dance Studio – shout out!! lol miss you guys 🙂 )
So if you know me, you know I LOVE to dance & just let go when exploring movement. I press record, then do whatever the music tells my body to do. One song that really does it for me is "Brand New" by Drake. Beautiful song! OMG he's so honest in the lyrics – and ya know what, it's really nice to hear a MAN expressing his insecurities about being in a relationship! On top of the lyrics, the music makes me feel sexy! Lol So take a look as I sway, bounce, drop it, & glide across the room 😉
AshleYYY – "Brand New" Freestyle 
Thanks for watching guys! Let me know your thoughts & what song you want to see me freestyle to NEXT!!
~AshleYYY
…Stay connected with me! Love YA 🙂