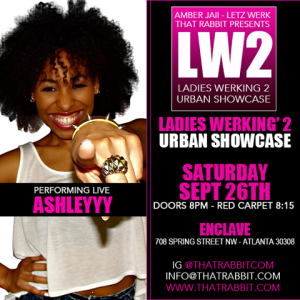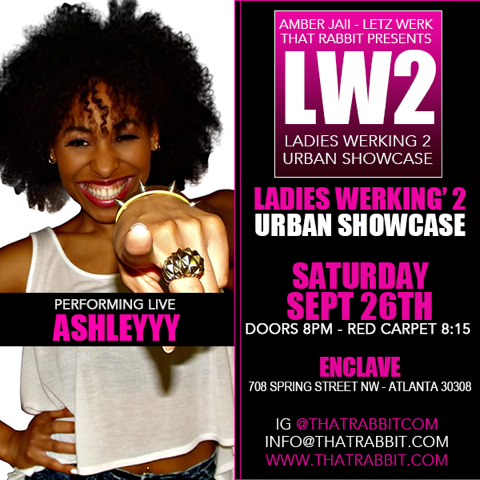 Ladies Werkin'. One Stage. Tonight! [Enclave – Atlanta, GA]
"DO MY LADIES RUN THIS MOTHA-FOR YA???  ….HEEEEECK YEAH!" (Ya'll know I can't curse. lol)
Hey World,
I'll be performing live tonight at Ladies Werking' 2! Whoop whoop! That's right – ALL female talent. I can't wait. I'm feeling empowered. #GIRLSTYME #LADIESFIRST #LADIESONLY #GIRLSRUNTHEWORLD …you get the picture. I'm excited to see some new talent & to hit the stage again. Last time we threw down, just wait til this evening 😉 This event is brought to you by AmberJaii, Letz Werk & That Rabbit. (Thank Ya'll for having me again 🙂 ) Details belooooow!
*Ladies Werking' 2 Urban Showcase* 
Hosted by Courtney Janell & Music by DJ Roots Queen
| Saturday, Sept 26, 2015 @ Enclave | 708 Spring Street Atlanta, GA 30308 | Doors/Red Carpet opens @ 8pm | Show starts @ 9PM | General Admission $10 before 10pm |
See ya'll tonight, MUAH!
~AshleYYY #TeamAshleYYY