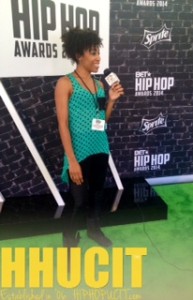 My First Experience at the 2014 BET Hip Hop Awards!
Soooo guess who attended the BET HIP HOP AWARDS 2014 AND worked the Green Carpet beforehand?! ……MEEE! 🙂 The awards are held in Atlanta, GA every year and I finally got to attend thanks to Mr. Griffin, CEO of Hip Hop U-C-It LLC. I was a photographer/publicist of HHUCIT for the evening lol. It was a great learning experience for me ….oh what to do when you are just tHRoWn in the mix and have to deliver! Lol
During and after the first interview, my heart was racing and I was hot! (I sweat easily too smh) All that anticipation built up before meeting the first person. We did well though! Renita, my fellow publicist, took the lead in the beginning. (OMG, she was a natural with the mic 🙂 ) Overall, our team worked well together.
Thankfully, we were given "cheat sheets" from BET to familiarize ourselves with each person that would be walking the carpet. (Now this came in handy!) Once I saw someone down the line, I would prepare myself (Check the cheat sheet), ask my team background info ("Who the heck are they?!"), and think of questions to ask that individual ("What award are you nominated for tonight?"). After a few interviews back to back, we was IN THERE maaane! Lol Shook off the nerves…"Shake it off! Shake it off! Hoo-hoo-hooh!" (*Singing Taylor Swift in my head*)
I have a tendency to be very shy when I get to these types of events ("But AshleYYY, you're a performer. You're an artist yourself!")…I know, I know. I'm slowly breaking out of that shell. Never forget celebrities are people, just like US! LOL
So long story short, after meeting a few people, I started to get the hang of things & picked up the pace. I had to remember to just be AshleYYY, let my personality come out in the interviews, and make everything conversational. By the end up the night, I was cracking jokes with artists, snapping my fingers with witty actresses, and taking selfies with Love & Hip Hop Reality Stars 🙂 lol See more of my photos below! AND most definitely don't forget to visit HIPHOPUCIT.com & subscribe for ALL of your entertainment news HERE!
~AshleYYY
PS… Did ya'll catch the awards Tuesday night? If not, I'm sure another rerun will air soon on BET lol What was YOUR favorite part of the show?! (I enjoyed seeing Brandy, MC Lyte, Yo-Yo & Queen Latifah perform live 🙂 AH!) Leave your comments below, have a GREAT weekend and expect another post & NEW YouTube video from me soon!
*Subscribe, Share & Repost!*
#TeamAshleYYY