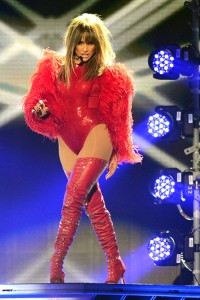 Billboard Awards 2013 – My Thoughts :)
Hi guys! So I watched the Billboard Awards Sunday night like most of you, and wanted to share my thoughts! ….I know I'm a few days late – Sue me. lol
Madonna – Congrats to her on winning the Touring Artist of the Year Award! Wow! I just want to say EVERYTIME I see her she is flawless! I don't care how old or young she is, she looks amazing & rocked them fishnets! lol She's an icon & can STILL bust a move better than most! Holla! lol
Taylor Swift – I'm not a huge fan, but what I do love about this young lady is that she always does something different than the rest of the performers. I remember one year she performed in a subway! lol And on this night, she started back stage, went through the crowd & ended up on stage. Despite her dancing, I like that she always gives you a show, there's a lot going on, and it looks like they're all having fun.
Chris Brown – Let me just say I am a fan. lol I love just about everything this man does – and "Fine China" is a great song! It's so groovy! 🙂 We all heard how he sounded and it was not the best vocally at all 🙁 But the choreo was sick! Lol I loved the set. – – I will say it's a challenge to sing & dance at the same time. I personally would rather see an artist give 100% & sing LIVE, than to see them lip sync the entire time. But it does suck to not be able to get through the song. Hoping for a better performance next time! He's still one of my favorite entertainers!
Tracy Morgan – Now was it just me or did some things seem off? lol I like Tracy and think he's funny, but I didn't know if he was coming up with stuff off the top of his head or if he was supposed to say & do certain things. lol Either way, he entertained the crowd as he should. Being a host has to be lots of work! I can only imagine. AH!
Selena Gomez – I started paying attention to her more after I found out who she was! lol I first saw her in a few Disney movies (Yes, Disney!) kept hearing her name, and then later found out she was actually a recording artist. Beautiful & multi-talented young lady – I like the single "Come and Get It" – Now it does seem a bit grown for her – but hey, she's at least 18 right? lol Its got a catchy hook & I love the wardrobe she uses to perform it.
Miguel – I was SO excited when he came out because I knew he would not disapoint me lol I was expecting to hear great R&B music live – and I did! I'm loving this guy more and more. He's got his own style and moves so smoothly on stage – not to mention he sounds great doing it! …. ….Um, the fall. My mouth dropped lol But he continued to sing like a PROFESSIONAL is supposed to do! I love that he kept it moving & still reached out to the girl beside him lol and Praise God the young lady was okay!!! Woo!
Ed Sheeran – Had never heard of him before…but I enjoyed him. His song was lovely and had the perfect melody. I can respect and appreciate a great LIVE performance! He sounded great – lots of emotion behind it his lyrics, as it should be!
Miley Cyrus – Now that's a bad chick! lol She was my favorite to see. Her outfit was like no other – but it worked for HER! Loved her confidence, her haircut, and that red lip! – FIERCE.
Icona Pop – OMG. I finally got to see who sings this song: "I Love It" I AM A FAN of this song! The lyrics are hilarious and the music makes you want to dance instantly! Look out, I may do a video for this soon! lol *Head nod, fist pump, jumping in air* 😀
Jennifer Lopez – Okay. Right when I was supposed to be done tweeting about the awards lol, JLo came out and ripped the stage! YESSSSSSSSSSSSSSSSSSSSSS! At that point I could care less about anything people had to say about artists lip sycning OR JLo's "wings" lol This woman is BADD! She performed her butt off in them boots! Gotta give it to her – One of the best overall performances of the night. If I can't take my attention off of you, you're doing something right!
Justin Bieber – I loved his remarks after winning the Milestone Award. He's right, it should be about the music and not all the other "BS" people like to talk about in his life. He's a young man growing up in front of the public eye. But hey, guess that's what you signed up for… Along with success also comes extra unwanted negativity when you're in the spotlight. :/
Thanks so much for reading! Feel free to comment!
Love ya,
AshleYYY