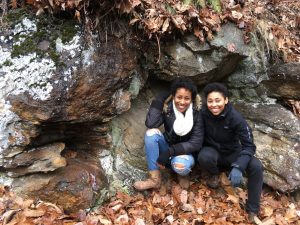 I Hiked 10 Miles with My Twin! #BirthdayTrip #NewYear
WELCOME! 
ERIN MAKES IT TO ATLANTA!
"LATE BLOOMERS"
You could say we were late bloomers for a lot of things in life lol. We both got our drivers license in our late 2o's; however she got hers maybe  a couple years after I did. This was the first time I had been in the car with her as a new driver.
Haha! I was such a passenger seat driver. Sorry, but not sorry…I couldn't help it.
After about 1.5 hours we made it to Amicalola Falls Lodge in Dawsonville, GA! Each day I took a photo of the view from our room. Each view was very different from the last, yet equally breathtaking.
*BIRTHDAY GIRLS*
January 10th, 2017 – Officially 30 years young & still looking like teens! 
 Clearly we both couldn't sleep. As usual, I reached for a snack. lol
"BUNDLE UP!"
After we filled up on carbs for breakfast, we headed out to the hiking trail. You will see below why it took us forever to get to the top…. Photo-ops, selfie stick complications, sing-a-longs & filming music videos were to blame.
"TWIN POWER"
I'm so happy we decided to spend our b-day together and try something new. I felt like we accomplished something great. It was definitely a memorable experience. Nothing but smiles & sore muscles. 
"THE FALLS"
The next day my body didn't want anymore exercise, and I was dreading doing anymore walking. However, Erin was really set on seeing this waterfall! lol I knew I had to go and finish our trip together. Thankfully there were two options to get to the waterfall: Walk down 400+ steps or drive… Needless to say which one we did. lol I'm so glad I went or I would have missed out on one of Georgia's beautiful landmarks.
We had a phenomenal time. Praise God for nature, new experiences, reflection, growth & true friendship!
To see more wAcKy photos from our trip, click HERE. To subscribe click HERE. Thanks so much for tuning in & Happy 2017!
Much Love,