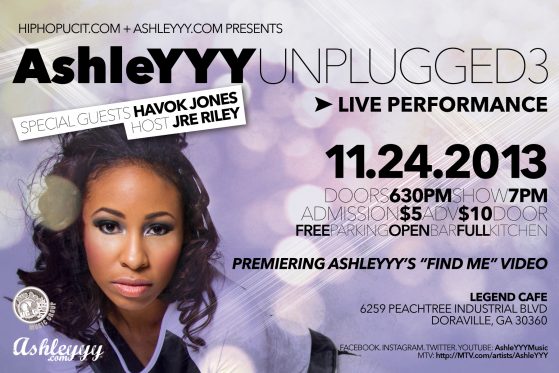 AshleYYY Unplugged 3 – You're Invited! [VIDEO]
You are cordially invited to AshleYYY Unplugged 3 – Sunday, November 24th, 2013 @ 7PM!
This event is so special to me because it will be my FIRST solo show in Atlanta, GA. I'm in a NEW city, got NEW music & want YOU to come be a part of the AshleYYY Experience… LIVE SINGING, DANCING & GREAT MUSIC! I always put on a show 😉 We've got a lot in store, including the premiere of my NEW music video for "Find Me". You guys have been waiting patiently for it, and we've got it!
Hosting the event will be the one and only, multi-talented, Jre Riley! Special guests performing live will be the lovely ladies of Havok Jones! Please mark your calendars & come show your support! I would love to see YOU there! 🙂
Admission: $5 in Advance &  $10 at the Door.
Make your advance purchase below to be added to the list:
[rps-paypal]
See you there!
~AshleYYY