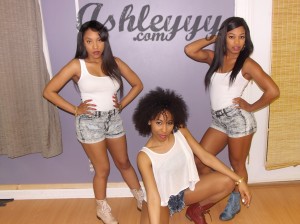 Watch Me Wurk! "HICCUP" at Opera LIVE! [VIDEO]
Hi everyone! I have a special treat for y'all this morning – performance footage from my last show!
The Venetian Room presents: Opera LIVE!
Opera Live is a special music series hosted by none other than DJ Romeo, here in Atlanta, GA! I performed alongside my amazing dancers, Mychala Ward (@Xanderbleu) & Desi-ray Morris (@Dancin_desi). We were honored to be one of the FIRST acts to perform at the music series! Following us were the attention grabbing, ALL girl band, Kkool Chixx! It was a pleasure meeting them & seeing them in action! After the show, we took lots of pics & danced with the party-goers lol…OMG, we had a ball that night! BIG Thank You to all those who came to show their support & those who made this event possible!
Watch us perform below!
AshleYYY Performs "Booty Wurk" & "Hiccup" at Opera LIVE!
Want more? View the photo gallery here!
~AshleYYY 🙂