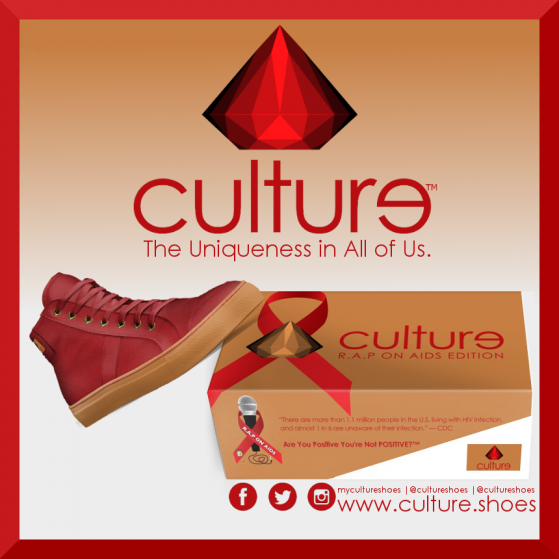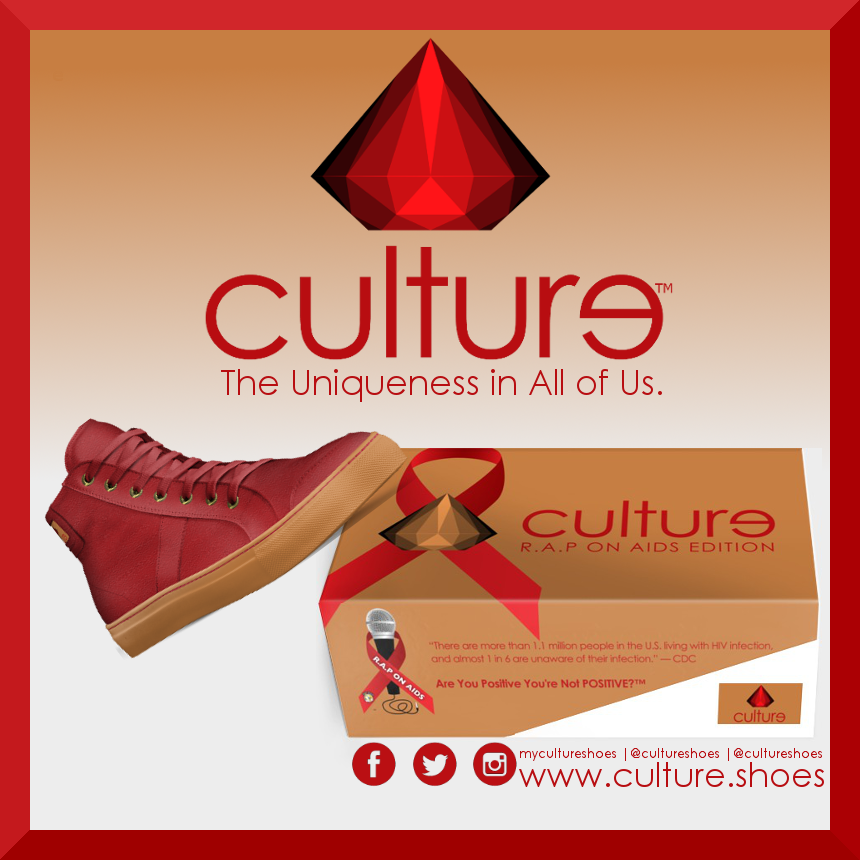 I Love My CULTURE – Sneakers With A Purpose!
Hey everybody!
I need you all like never before; I have been a part of a focus group over the past month where we've been given an opportunity to create our very own sneaker! The shoe brand is called Culture, and we created everything including the design, style, color and concept of the sneaker. This isn't just any ordinary sneaker, but it's a sneaker with a purpose. We have created a limited edition sneaker for men and women to help continue the fight against the deadly epidemic, HIV/AIDS. 
We have partnered with the R.A.P On AIDS Campaign and we will donate 100% of the profits to help combat the deadly epidemic. The profits will continue supporting the country-wide initiative that engages the disadvantaged and uneducated communities on the effects of HIV/AIDS in an effort to get people tested for HIV.
Culture: The R.A.P On AIDS Edition is on sale NOW! This is a limited edition sneaker and will ONLY be available until Monday, July 7th, 2014. When you use the discount code: XEOWDBJTYQM you will receive $15 off of your purchase! In addition, the first 25 people to purchase a pair of Culture's will receive a bundle of goodies! That's right; you'll receive a matching Culture shirt, Culture wristband, alternate laces, and a code for an in-home HIV test. When you purchase a pair of Culture's you are helping someone else. Remember it's everybody's responsibility to raise awareness and with our Culture, you can do it with style!
Purchase Culture: HERE! http://bit.ly/cultureshoes
Your Support is Greatly Appreciated! I Love You All & Be Safe this Holiday Weekend!
~AshleYYY
P.S. Please don't hesitate to pass this information along to others! Let us know if you have any questions and/or just want to donate to R.A.P On AIDS. Be sure to visit Culture's website www.culture.shoes and follow us!
Facebook: MyCultureShoes
Twitter: @CultureShoes
Instagram: @CultureShoes