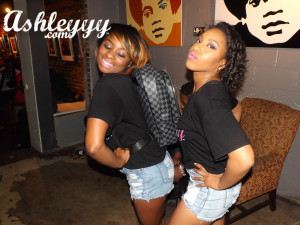 You Ain't Neva Seen These! [Performance Photos]
Hey World! I hope everyone had a beautiful Easter weekend! 🙂 I thought I would share some fun never seen before photos with you all. Take a look BELOW and hope to see ya'll at the next SHOW! Lol
#WSAATL Unplugged 'Thank You Party' @ Apache Café (Oct 2014) We ended the year with a bang! After the retreat we had our last Writing Sessions of the year. That was my first time ever performing at Apache! 🙂 Glo also took the stage and had the crowd rockin!  *A successful night with friends & great music.*
Dance Workshop with Dance Styles, Inc. (Nov 2014) I had the opportunity to host an NBA dance team style workshop through Dance Styles, Inc. I taught sassy piece to Jessie J's 'Bang Bang!'
Afton Show @ Kryptonite (Jan 2015) First show of the New Year! Woo hoo! New location, new faces, & a new mix! 
The Xperience Music Series @ Enclave (Jan 2015) The very next night I performed at Enclave for the first time. I did 'Find Me' and most definitely left everything on that stage lol #OneWomanShow 
Music & Soul 5 @ Apache Café (Feb 2015) This was one of my favorite shows because I felt like I really took risks. I'm going to keep challenging myself to do be in the moment when I'm on that stage & not be afraid to let go! Try something new! No playing it safe.
Ladies Werking @ Suede Lounge (February) Lol. Now this was a lonng, fun night. We had two performances back to back at different locations. Mychala was under the weather and STILL performed like nobody's business! We ended the night at Gladys Night's Signature Chicken & Waffles and I ordered the 'Midnight Train' for the first time. lol (Hungry just thinking about it…omg let me finish this post.. *mouth watering*) 
NEXT LIVE PERFORMANCE: Thursday, April 23rd , 2015 >> #WSAATL 'Marquee Showcase' @ Apache Café | 64 3rd St NW, Atlanta, GA | Admission $10 | Doors open 7PM | Showtime 8PM!
…That's all for now folks. Have  great week!
~AshleYYY 🙂
'Hunga Games' Artist Comp @ Kryptonite
Valentine's Day Artist Comp @ GME Sports Lounge & Grill
Zone Boy @ Kryptonite | Found out he's from MKE too! 🙂
 EL FIN. 🙂