Yes, it's that time of the month – FUN FACT FRIDAY! So May has actually been a really busy month for me – feels like the longest month ever! Lol I've had an adventurous last couple of weeks. Allow me to share a few moments with you all below 🙂
 1. My twin sister, Erin came to visit me for a WHOLE WEEK! It was a well needed visit. I've been missing the people that mean the most to me back home, so it was nice to have her here with me 🙂 #TwinPower! Now of course we recorded lots of corny videos (some of which may be posted at a later date lol) and took many photos of our time spent together. (Read my blog on Erin's visit here!)  
2. I feel like I have just been dancing my butt off this month! Lol Man! I went on about 5 auditions this month (3 out of 5 – dancing). There was one that just really stuck with me – Drumline: A New Beat auditions. This was a two day process, therefore a lot of passion, sweat & tears went into it. I learned 4 completely different routines in 2 days & killed all of em! Lol No lie. Now, I was in the Marching Band back in high school (clarinet player), but never had any experience doing dance team drills; so this was a really cool experience! The dance style is so uniformed & sassy! 🙂 Sadly, I wasn't one of the twenty something ladies chosen for the TV movie. 🙁 But as always, evaluate your performance, take notes, learn from it & KEEP IT MOVING! 🙂 Praise God. 
3. I won a RAP BATTLE! LOL … So I went to audition (yes, another one lol) for a chance to perform at 'Birthday Bash', one of the biggest music concerts in Atlanta, GA. McDonald's is sponsoring '5 Minutes of Fame' and was looking for talent. I attended the last audition and of course it was a large turnout! The staff at V103 (The People Station) did a raffle – so if your name was called, you got ONE minute to perform. At the end of the night, judges picked their top 4, and now viewers must vote online… yada yada…so I stuck around to see how I could WIN free tix to the concert, since I wouldn't be performing lol.
 Beyonce, of V103, asked for 4 ladies & 4 guys to participate in a "Freestyle Rap Battle" – I raised my hand. Lol She picked me! There were two rounds; the first two ladies went against ea other (winners were based off of applause), then I went against the third contestant. *Thank God it was a cappella!* I performed 'The S-H-I-T' and at the end of my verse, I did a little bit of singing. (I think that was bonus points for me lol) I won that round! Then, I had to go against the other winner. I performed 'Rock the Mic' but first got the crowd clapping with me, and then I DELIVERED! LOL Praise God! It feels good to be a versatile artist; I just KNEW my rapping skills would come in handy and I'd win a battle one day! Haha! :O 🙂
4. Like I said, this has been an adventurous month! (I'm trying to keep this down to 5 facts only! :o) So I'll sum these events up together…ALL three of these were a first for me!
ATL Live on the Park – There was some amazing talent in the building, from singers to songwriters & super producers. We had a blast! I even got to meet R&B singer, Joe!
Atlanta Braves Baseball Game – We had some great seats! At least 4 baseballs flew past our section! Lol After the Braves won, there was a fireworks show!
Atlanta Caribbean Carnival – Omg. I just can't get over how HOT it was that whole day lol Despite the weather, we did lots of walking, met new people, and saw how they 'get down' in other cultures! 
5. Speaking of cultures, 🙂 did you guys know I helped launch a new campaign?! That's right! I have been in a focus group over the past month and given the opportunity to create our very own sneaker! But not just any sneaker – a sneaker with PURPOSE. Culture has partnered with R.A.P On AIDS and will donate 100% of the profits to help combat the deadly epidemic. Culture: The R.A.P On AIDS Edition, is a red & peanut butter, unisex shoe. This is a limited edition sneaker & will be on sale for 30 DAYS ONLY, starting June 1st,2014. (Enter your info. on the site here & be sure to follow Culture's social media!) Please #Support this great cause!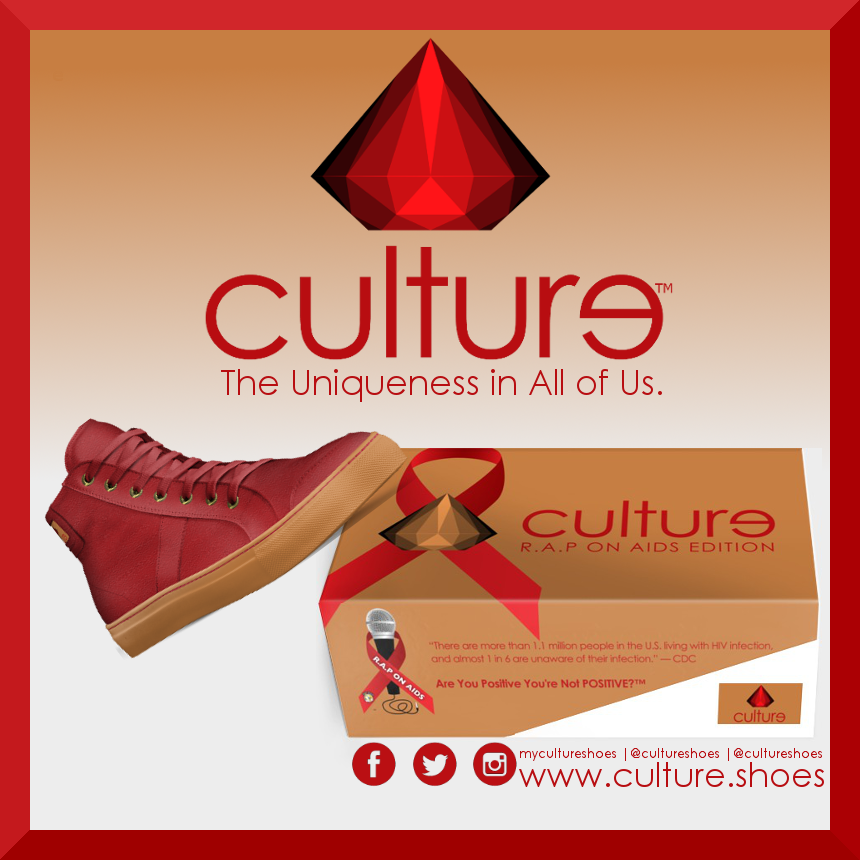 Thank You! Thank You for tuning in & have a safe weekend! Goodbye month of May; let's see what June has in store 😉 Talk to ya'll soon…
God Bless,
~AshleYYY