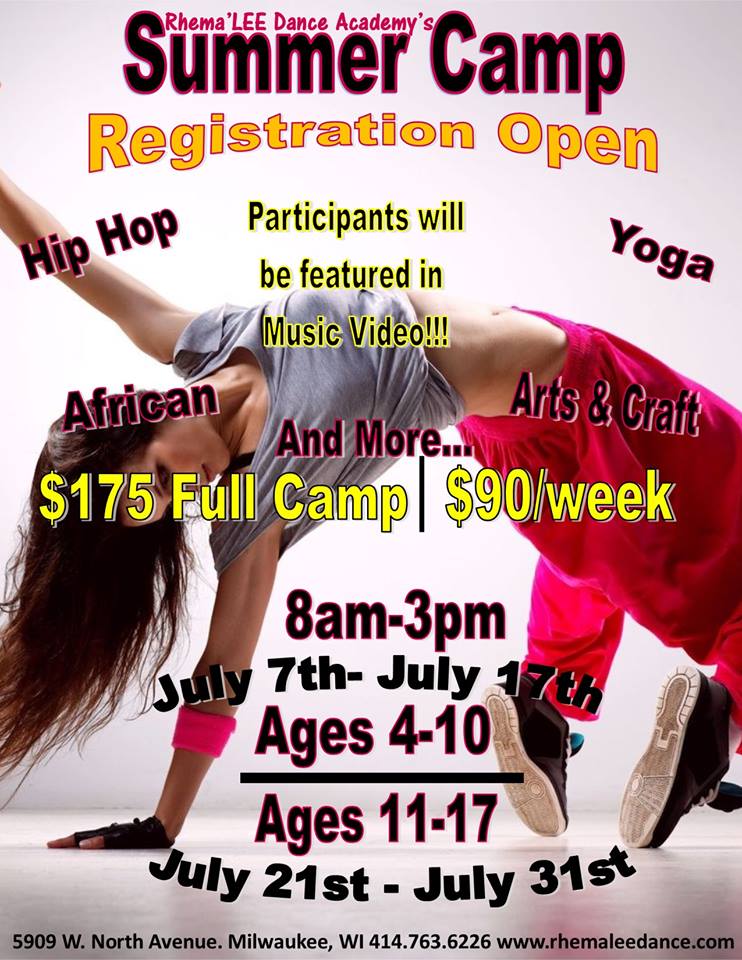 ATTENTION! Are you & your family ready for the summer? Does your child love to learn? Love to dance? If you all are in the Milwaukee area or will be this summer, be sure to enroll your child in Rhema'LEE Dance Academy's Summer Camp!
I've had the opportunity to work personally with Rhema & see her perform many times – she is one talented individual! Rhema is definitely a well-rounded dancer/choreographer, with lots of experience under her belt. Her energy on the dance floor is outstanding & she's a pleasure to work with!
"Everyone please SHARE! I, Rhema'Love, along with other great choreographers will be bringing to you this great Summer Camp hosted by Rhema'LEE Dance Academy. Your child will be SURE to have a blast and leave a better person. This will benefit someone on your friends list, so SHARE SHARE SHARE!! Thanks in advance!" ~Rhema'LEE
You can expect Hip Hop, Yoga, African, Arts & Crafts, and more! Your child will receive a summer camp T-shirt & even be featured in a music video!
Each camp session is from 8AM-3PM
Ages 4-10 – July 7-July 17th | Ages 11-17 – July 21-31st
$175 Full Camp | $90/week
Rhema'LEE Dance Academy | 5909 W. North Avenue Milwaukee, WI 53208 414-763-6226  | www.rhemaleedance.com 
HURRY! There is a limited amount of space. Enroll your child today!
Please be sure to pass this info along to others who may be interested! And also check out Rhema'LEE Dance Academy for your personal dance/fitness needs HERE! 🙂 
~AshleYYY